Title: Fighting Immigration Anarchy

Subtitle: American Patriots Battle to Save the Nation

Author: Daniel Sheehy

Publisher: Rooftop Publishing

Format: 6x9 softcover

Page Count: 344, including photos, sources, and index

Publication Date:
June 2006

Availability: At Amazon and major bookstores

Buy Now at Amazon
and Major Bookstores!
---
Includes the Shocking 20-Page Chapter "Bush and Other Elites Merging U.S., Mexico, and Canada"
---
"This book is not just informative but inspiring. Readers will want to join up."
— Peter Brimelow, author of Alien Nation, editor of VDARE.com
"This book is great! Buy it!"
— Steve Eichler, executive director, Minuteman Project; host and producer, Minuteman Radio Network
"A must-read.... Bravo!"
— D.A. King, founder of The American Resistance Foundation
"A powerful expose of the treasonous agenda to create the emerging North American Union and the efforts of real Americans to resist it."
— Kevin Shannon, host of The Right Source
"This book is fantastic!... It tells you what the mainstream media won't."
— Cheree Calabro, state director,
Indiana Federation for Immigration Reform and Enforcement
"Once you start reading it you cannot put it down."
— Tim Donnelly, leader,
Minuteman Civil Defense Corps of California
"Every American needs to read this book." — Jan Herron, Colorado Alliance for Immigration Reform
"It's a great book!"
— Rick Biesada, radio host, WJJG-AM, Chicago, and director of the Chicago Minuteman Project
"Get this book!"
— The Ron Smith Show, WBAL-AM, Baltimore
"Many will agree that this is the best book written on the subject."
— Byron Slater, Border Solution Task Force
"This is a great book!"
— Charles Heller, host of Liberty Watch Radio
"Thanks to a few courageous journalists like Daniel Sheehy, we are learning the facts through his book, and the story of American patriots dedicated to saving our nation."
— George Putnam, legendary newsman-broadcaster, Cable Radio Network
"A great book!"
— Barbara Jean, host of Born on the Fourth of July, KTKK-AM, Salt Lake City
"A great read!"
— "The Source with Paul Anderson," KIXZ-AM, Amarillo, Texas
"It is a unique book that chronicles the courage, passion, struggle, and dedication of the leaders in the immigration battle."
— The New American magazine
"I urge all Americans who care about their freedoms and quality of life to read Sheehy's book."
— Seamus McGowan, Mississippi Federation for Immigration Reform and Enforcement
"Great book, inspirational!"
— Gianluca Zanna, composer of Wake Up America
"The book salutes and colorfully describes citizens who are battling the elites' push for mass immigration and open borders."
— Roy Beck, president, NumbersUSA
"Sheehy's book is a witness to history, a tribute to those who battle like Americans to stop the destruction of this nation."
— Lupe Moreno, president,
Latino Americans for Immigration Reform

"The message throughout Sheehy's book is that ordinary people with the grit to save the country can do extraordinary things."
— Brenda Walker, project director, Immigrations Human Cost
"The book is not entirely about what is wrong with America's immigration policies, but rather about what is right with many patriotic Americans who are standing up to confront these disastrous policies."
— Federation for American Immigration Reform (FAIR)


— "Magnetize" the brain can change our view on immigrants and God
The posterior medial frontal cortex is a part of our brain that, among other things, is responsible for assessing threats and to plan responses to those. Well, manipulating the activity of this brain area, a team of neuroscientists has blocked its activity in a group of volunteers by transcranial magnetic stimulation (TMS), a noninvasive technique that was first used more than twenty years and has demonstrated its efficacy in the treatment of neuropsychiatric diseases such as severe depression, posttraumatic stress and obsessive-compulsive disorder. EMT is to transfer energy to the brain of a magnetic field through a coil device and intelimax IQ suplemento applied to the patient's head. Thus is achieved specifically produces an electric current in specific areas of the brain that increases or decreases the excitability of neurons, and induce changes in concentration of certain neurotransmitters. According to a study published in the journal Social Cognitive and Affective Neuroscience, the application of the EMT in the said area of the frontal cortex makes people more tolerant towards immigrants than before the session show that belief in God is less solid.
5 Movies about stories of immigrants
The stories of immigrants are sad and hard but always have a life lesson we can all take advantage of. Persistence, ingenuity, friendship and family ties are offered as antidotes of adversity and displacement. Here is the collection of 5 movies about immigrants' stories including Image with link. Hope you like it!
1. Amexicano
Year of its release: 2007
Director: Matthew Bonifacio
Genre: Drama
The title itself provides input to an unsuspecting viewer clues to understand the plot director search. "Amexicano reveals the complex life of Diego played by the Dominican actor Manny Perez, an undocumented Mexican immigrant who was the gleaning to get a decent job of the hand of another Italian – American immigrant who hires him not without prejudice. Slowly recognition both as immigrants leads to sobreponserse to initial prejudices and build a true friendship. Acierta director in the almost symbolic treatment of life histories and the direction of the artistic work of Perez.
2. Yellow
Year of its release: 2006
Director: Alfredo de Villa
Drama
Mobilized by the suicide of his father, Amarillys Campos decided to settle in New York with an eye to succeed as adancer. But the situation is not imagined seeing forced to dance half – naked in a nightclub to survive. Good interaction with the secondary character played by his neighbor, a former professor of poetry that works, frustrated as she, in a supermarket. An interesting metaphor that exposes the fear of all immigrants: if dreams are perverted perverts everything.Ideal for teens seeking their identity.
3. The city
Year of its release: 1998
Director: David Riker
Genre: Drama
It is known novel experience that the director had to undertake to get to realize this film. "The city" was the result of an arduous process of pre-production with aview to recognize every detail of what life of Latinos in Manhattan. Even the Riker had to learn Spanish these years and serve as awaiter in a cafe. The film exhibits four life stories of Latino immigrants in tone drama.Adversity for being different hits the viewer of a crude and direct way. A tribute to postwar Italian neorealism incorporating non – professional actors. To open the head.
4. New Yol 1/3
Year of its release: 1995
Director: Angel Muñiz
Genre: Comedy
Counter to other films that treat the same subject dramatically, "Nueva Yol" offers a touch of comedy to invite the viewer to decompress a reality that so everything continues to be hard: the Latino immigrants who tread American soil in looking for a better future. The adventures of Orodoto Balbuena, a Dominican immigrant who comes to "New Yol", who is a prisoner of his naivete for trusting that the dollars come dreamed as if nothing.Although the final resting points predictable, a good option to enjoy a Sunday afternoon. A sequence of the same story in "New Yol 3".
5. My family
Year of its release: 1995
Director: Gregory Nava
Genre: Drama
"My family" is the story of three generations of the Sanchez family who accompany their particular experiences from recent US history over the past century. The first part goes back to arrribo from Mexico of Jose Sanchez and the promise of finding a decent job. The Great Depression of the 30s leads to deport Mary, his wife. The second part towards the end of the 50s is marked by the tragic death of his eldest son Chucho, at thehands of the police. The third in the early 80 closure Jimmy's son Chucho. "The Family" teaches us
how strong and lasting ties are blood despite adversity.
Services for immigrants and refugees in the U.S
Washington, DC is home to a thriving and active community of immigrants from around the world. Many come to the United States with the dream of starting again and realize a better life. Others escaped the violence and fear of death, seeking asylum and security. Our staff speaks 35 different languages ​​and many of them have lived immigration stories firsthand.
medical and dental services
Medical clinics in Washington, DC and Silver Spring, MD: medical clinics that provide services that are not emergency patients without medical coverage. They are in the Mt. Pleasant neighborhood of Washington, DC and the McCarrick Center in Silver Spring. The staff speaks English and Spanish.
In-home personal training service in Washington: Personal Trainer DC.
Dental Clinics in Washington, DC and Silver Spring, MD : dental clinics that offer preventive dental care and acute phase for adults and children without health insurance. They are in the Mt. Pleasant neighborhood of Washington, DC and the McCarrick Center in Silver Spring, MD. The staff speaks English and Spanish.
Healthcare Network Catholic Charities : links to low -income patients with pro bono specialized medical care by doctors and hospitals in the area.
Center for Refugees
Our Center for Refugees works with people who have recently moved to the region as refugees. We work to link to our beneficiaries with employment opportunities and language training classes, and to help them adapt to their new culture.
Immigration Legal Services
Our team Immigration Legal Services provides legal assistance to individuals seeking to run for legal status in the United States.
Employment training programs and education
We offer a series of programs designed to help immigrants learn a new trade or a new skill as part of the process of achieving independence. We also offer job search assistance, English as a Second Language (ESOL, for its acronym in English) and more.
The drama of immigration recreated in Instagram
The photos of Abdou Diouf, a young immigrant Senegalese 23 years in his odyssey through Africa chasing the dream of reaching the Spanish coasts published with the usual hashtags (tags) of social networks at once caught the attention in the world of photos with filter and beautiful scenes of Instagram Get a lot of followers on Instagram.
But Instagram account turned out to be false and Abdou Diouf is the handball player Hagi Toure, all as part of a campaign created to promote Getxophoto – A photography festival held in the Basque town of the same name, as recorded by the magazine Time , and also an invitation to reflect on the use of photography today.
In this case, shows how the banality of treatment that is could be used withsmartphones Self Portrait "-the selfie so abundant in networks as Instagram- to produce a similar image in a very different context, as the dangerous journey that many Africans hoping to aspire to a better life embark: "we thought it was strong and powerful enough to make a statement and ask questions , " says the US publication Oriol Caba, Volga, the production company Bell.
Manage immigration and finance for a safer Europe: EUR 2,400 million in support of the Member States
The Commission approved this month 23 national multiannual programs under the Fund for Asylum, Migration and Integration (FAMI) and the Internal Security Fund (FSI). The total funding granted to the agreed programs is approximately EUR 2 400 million for 2014-2020. Money can now reach the border Member States, such as Greece and Italy, and other EU Member States also receive large migratory flows. The Commission has worked closely with Member States to ensure that EU funds are released urgently. 22 national programs had already been approved in March and another 13 programs will be approved later this year.
Dimitris Avramopoulos, Commissioner for Migration, Home Affairs and Citizenship, said: " The Member States today face unprecedented challenges in the areas of migration and security, and the Commission acts spirit of solidarity. Through its European migration and security agendas, the Commission is taking active measures to improve the management of migration, promote cooperation and make Europe a safer place for our citizens from organized crime and terrorism. National programs approved by the Commission provide substantial financial assistance to Member States to meet these challenges. We are determined to implement solidarity . "
FAMI funds support national efforts to improve reception capacities, ensure that asylum procedures comply with the rules of the Union, the integration of immigrants at local and regional level and improve the effectiveness of return programs. Funding provided by the FSI complements national efforts to improve the management and monitoring of the borders of the Member States, particularly by using modern technologies. FSI funds are also used to cross-border police and judicial cooperation and strengthen the capacity of member states to effectively manage the risks related to security, such as terrorism and violent radicalization, drug trafficking, cybercrime, trafficking in human beings human and other forms of organized crime.
In addition to assigning base (see annex), most national programs are supplemented with additional amounts available for the implementation of certain transnational activities. Among them they can be counted joint return and reintegration projects under FAMI or establishing consular cooperation under the Internal Security Fund. Additional funds will be invested under the FSI in buying large-scale equipment, which is made available to Frontex. This resource will be available for joint operations whenever necessary. In addition, nearly EUR 37 million will be channeled through FAMI programs in support of the resettlement program of the Union in the period 2014-2015.
The Commission is working on quick approval of the remaining national programs. With a total budget of FAMI and FSI Funds for 2014-2020 of EUR almost 7 000 million, these funds are the main financial instruments of the EU to invest in an open and secure Europe.
Context
The Fund Asylum, Immigration and Integration and Internal Security Fund supports the efforts of the EU in the field of migration and home affairs.
The Fund Asylum, Immigration and Integration contributes to the efficient management of migration flows and the development of a common approach to asylum and migration.
The Internal Security Fund (consisting of the instrument for financial support for police cooperation, preventing and combating crime , and the instrument for financial support for external borders and visa ) contributing to ensuring a high level of security and crime prevention in the Union, while allowing legitimate travel and ensures sound management of the external borders of the Union.
85% of the funds were channeled through multi-annual strategic national programs, covering the period between 2014 and 2020. After the approval of the Commission, the competent authorities of the Member States formulate, implement, monitor and evaluate these programs in collaboration with relevant stakeholders, including civil society. The recently proposed by the Commission and approved by the Council resettlement programs and relocation will be implemented through national programs FAMI.
The Commission manages the remaining funds, representing approximately 15% of total resources, on the basis of specific work programs. It is through these work programs of the Commission and the Union actions and emergency assistance to Member States are financed.
The Commission has approved 23 national programs in recent weeks 7 FAMI programs (Cyprus, Spain, Greece, Italy, Poland and Sweden) and 16 programs FSI (Austria, Bulgaria, Cyprus, Spain, Estonia, Finland , Greece, Hungary, Ireland, Italy, Lithuania, Luxembourg, Malta, Portugal and Romania). The Commission approved 22 national programs earlier this year: 17 FAMI programs (Germany, Austria, Belgium, Bulgaria, Czech Republic, Estonia, Finland, France, Hungary, Lithuania, Luxembourg, Malta, the Netherlands, Portugal, the United Kingdom and Romania) and 5 programs FSI (Belgium, Czech Republic, Denmark and France). The 13 other national programs shall be approved in late 2015.
bookkeeper brisbane reported Financial allocations by Member State: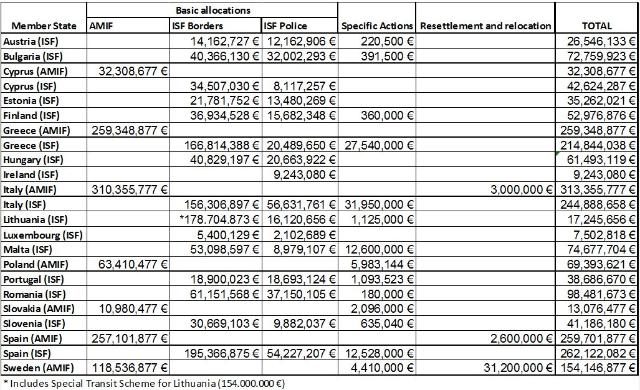 A home for immigrants
The SEI associate with orange county water damage repair, which promotes the social integration of adolescents, accurate volunteers .
SEI is an independent association of Pamplona that helps immigrants, especially teenagers, to integrate into the society of Navarre and prevent social exclusion.
Winter and summer work and to volunteer, do not be a certain age, nor a particular job. Enough to be communicative people with ability to listen, patient and persistent. Moreover, that recent immigrants receive support is necessary that adolescents aged 12 to 17, and in Pamplona with a maximum 18 months.
The headquarters of Intercultural Socio Service is located at number 32 on the street Francisco Bergamin, premises were donated by the Jesuit college in 2010. Since its inception in 1999 until last year conducted their activities in spaces provided by the parish of San Miguel. However, Sara Bea Cirauqui, general coordinator of the SEI association stressed their status as "independent entity" and said that "Jesuits gave the only centers and exclusively because they believed in the project." Jose Manuel Martinez, a former volunteer SEI adds that monitors do not share "the same political ideals" and are "people of the same age." What they do have in common the team is "the same goal: preventing social exclusion and facilitate the adaptation of immigrants in our society."
In particular, the challenge is to facilitate adaptation, participation and inclusion of immigrant adolescents through orientation and support in the process of elaboration of the "migratory grief" as well as psycho-socio-educational development; a "global and personal" way, and in collaboration with their families, schools, social services and other social stakeholders. SEI needs volunteers, monitors with a communicative profile, capable of compromise so that young people do not feel a sense of abandonment, and "be patient, as the personal evolution is a gradual process and not instantaneous," said Bea. Also, Bea highlights the importance of "empathy" and "control of frustration" to help young people to carry out "the development of migratory grief because just arrived in a city not known or culture, or language. " Martinez compares the values ​​of volunteering with the teacher, and highlights "the patience and knowledge to take the place of the other" fundamental pillars. It also stresses that "the world of adolescents parallels that of adults and the key is to be able to get into it."
The premonitory.
As to the relationship between monitor and user it refers balance is critical approach and distance. "We get involved personally, we are like his older brothers, but we can not forget the professionalism, the links we have with young people should stay in the space and time marked by Sei," said Martinez. Among the volunteers, is the figure of premonitory which refers to a person over 16 years, usually immigrants, the vast majority received help earlier in the SEI, and after full integration, becomes the main cooperating. This intermediate "begins to make their own decisions, and helps the newcomer to the country in his adaptation."
In this course it has been around 50 monitors who participated helping immigrants. Still, some of them enter the middle of the course and can not join the social-educational program since its inception. And for newcomers there are activities for the month of August in order that young immigrants be made ​​aware of the reality around them, know the environment and the streets of Pamplona, ​​and become involved in the activities offered by the city . In addition to providing academic support, mainly it intended to immigrant teenagers overcome "the blockade and the contextualization to which they are subjected when they come to a city they do not know."Also, "the difficulty of immigration is mostly social, and we from the association do everything possible to address the problem of what language and adapt to new customs progressively".
Immigration report proposes to improve their accounting
Better accounting would ensure that US Immigration and Customs maintains custody hazardous immigrants, operating both its vast system of detention within a framework of security and legality, says a report of bookkeeper brisbane.
The report, which spread on Thursday Migration Policy Institute, based in Washington, notes gaps in the information that the agency uses to track more than 33,000 detainees in its national system in which immigrants awaiting court hearings or deportation .
These omissions include whether a detainee is dangerous or might be entitled to apply for US citizenship, making it difficult for the agency to ensure operate legally and efficiently, said Donald Kerwin, one of the authors of the report.
"This analysis sheds new light on the criticism by asking whether the agency can fully comply with the law, effectively manage its vast system of detention, and creating a better system for civilian detainees" with your current accounting, the authors wrote.
The report is based on data from records obtained by The Associated Press on orders protected by the Freedom of Information Act. The AP reported in March that more than half of immigrants imprisoned and detained by the agency in one January night had not been convicted of a crime, and nearly a third had been detained more than the average of 31 days reported by the agency.
The agency director John Morton, who took office in May, announced last month that the institution reassess the system. He said he would seek treated differently to non-violent prisoners who pose no risk of leakage from having criminal convictions require mandatory detention and deportation.
The database of the agency currently does not indicate whether an immigrant must be stopped, as in the case of offenders who have served their sentences and have passed into the custody of the agency, or if you consider that the immigrant is dangerous. Nor does it indicate if the immigrant has a physical or mental illness.

Buy Now at Amazon
and Major Bookstores!